Printers Boxes
These cartons are the industry standard!
• All cartons ship and store flat to save space.
• Order in bundle or bale quantities.
• Corrugated cartons are all 100% recyclable.
• 100`s of sizes to choose from!
200# / 32ECT C-flute, 275# / 44ECT C-flute, 275# DW / 48ECT B/C-flute are examples of industry statndard corrugated verbiage that define comparable Board Grades. All boxes are ECT - Edge Crush Test unless stated otherwise.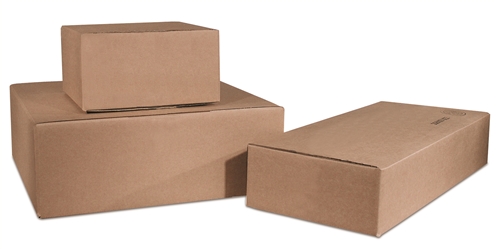 Products:
---

Product
Quantity
Bundle price (each)
Bale price (each)

Add bale

11 1/4 x 8 5/8 x 10 " 200# / 32 ECT 25 bdl./ 500 bale

Quantity:

25/Bundle
$0.72
$0.65

11 1/4 x 8 3/4 x 4 200# / 32 ECT 25 bdl./ 750 bale

Quantity:

25/Bundle
$0.62
$0.56

11 1/4 x 8 3/4 x 6 Multi-Depth 4, 2" 200# / 32 ECT 25 bdl./ 750 bale

Quantity:

25/Bundle
$0.68
$0.61

11 1/4 x 8 3/4 x 6 200# / 32 ECT 25 bdl./ 750 bale

Quantity:

25/Bundle
$0.62
$0.56

11 1/4 x 8 3/4 x 6 275# / 44 ECT Heavy Duty 25 bdl./ 750 bale

Quantity:

25/Bundle
$0.75
$0.67

11 1/4 x 8 3/4 x 6 White 200# / 32 ECT 25 bdl./ 750 bale

Quantity:

25/Bundle
$0.67
$0.60

11 1/4 x 8 3/4 x 8 200# / 32 ECT 25 bdl./ 500 bale

Quantity:

25/Bundle
$0.66
$0.60

11 1/4 x 8 3/4 x 9 1/2 200# / 32 ECT 25 bdl./ 500 bale

Quantity:

25/Bundle
$0.71
$0.64

11 1/4 x 8 3/4 x 10 " 200# / 32 ECT 25 bdl./ 500 bale

Quantity:

25/Bundle
$0.73
$0.66

11 1/4 x 8 3/4 x 11 200# / 32 ECT 25 bdl./ 500 bale

Quantity:

25/Bundle
$0.76
$0.69

11 1/4 x 8 3/4 x 12 200# / 32 ECT 25 bdl./ 500 bale

Quantity:

25/Bundle
$0.79
$0.71

11 1/4 x 8 3/4 x 12 275# / 44 ECT 25 bdl./ 500 bale

Quantity:

25/Bundle
$0.96
$0.87

11 1/4 x 8 3/4 x 12 Multi-Depth 10,8,6" 200# / 32 ECT 25 bdl./ 500 bale

Quantity:

25/Bundle
$0.79
$0.71

11 3/4 x 8 3/4 x 4 3/4 200# / 32 ECT 25 bdl./ 750 bale

Quantity:

25/Bundle
$0.58
$0.52

11 3/4 x 8 3/4 x 4 3/4 Multi-Depth 2 3/4" 200# / 32 ECT 25 bdl./ 750 bale

Quantity:

25/Bundle
$0.63
$0.57

11 3/4 x 8 3/4 x 4 3/4 White 200# / 32 ECT 25 bdl./ 750 bale

Quantity:

25/Bundle
$0.63
$0.56

11 3/4 x 8 3/4 x 8 3/4 Multi-Depth 6 3/4" 200# / 32 ECT 25 bdl./ 500 bale

Quantity:

25/Bundle
$0.69
$0.62

11 3/4 x 8 3/4 x 8 3/4 200# / 32 ECT 25 bdl./ 500 bale

Quantity:

25/Bundle
$0.70
$0.63

11 3/4 x 8 3/4 x 8 3/4 White 200# / 32 ECT 25 bdl./ 500 bale

Quantity:

25/Bundle
$0.76
$0.68

12 1/4 x 9 1/4 x 9 200# / 32 ECT 25 bdl./ 500 bale

Quantity:

25/Bundle
$0.76
$0.68

12 1/4 x 9 1/4 x 12 Multi-Depth 10, 8, 6" 200# / 32 ECT 25 bdl./ 500 bale

Quantity:

25/Bundle
$0.86
$0.78

12 1/4 x 9 1/4 x 12 200# / 32 ECT 25 bdl./ 500 bale

Quantity:

25/Bundle
$0.85
$0.77

14 1/2 x 8 3/4 x 12 200# / 32 ECT 25 bdl./ 500 bale

Quantity:

25/Bundle
$0.90
$0.81

14 1/2 x 8 3/4 x 12 Multi-Depth 10, 8, 6" 200# / 32 ECT 25 bdl./ 500 bale

Quantity:

25/Bundle
$0.90
$0.81

17 1/4 x 11 1/4 x 4 200# / 32 ECT 25 bdl./ 500 bale

Quantity:

25/Bundle
$0.81
$0.73

17 1/4 x 11 1/4 x 5 200# / 32 ECT 25 bdl./ 500 bale

Quantity:

25/Bundle
$0.86
$0.78

17 1/4 x 11 1/4 x 6 200# / 32 ECT 25 bdl./ 500 bale

Quantity:

25/Bundle
$0.93
$0.84

17 1/4 x 11 1/4 x 6 275# / 44 ECT 25 bdl./ 500 bale

Quantity:

25/Bundle
$1.13
$1.02

17 1/4 x 11 1/4 x 6 Multi-Depth 4" 200# / 32 ECT 25 bdl./ 500 bale

Quantity:

25/Bundle
$0.91
$0.82

17 1/4 x 11 1/4 x 6 White 200# / 32 ECT 25 bdl./ 500 bale

Quantity:

25/Bundle
$1.00
$0.90

17 1/4 x 11 1/4 x 7 200# / 32 ECT 25 bdl./ 500 bale

Quantity:

25/Bundle
$0.97
$0.88

17 1/4 x 11 1/4 x 8 White 200# / 32 ECT 25 bdl./ 500 bale

Quantity:

25/Bundle
$1.12
$1.00

17 1/4 x 11 1/4 x 8 Multi-Depth 6" 200# / 32 ECT 25 bdl./ 500 bale

Quantity:

25/Bundle
$1.01
$0.91

17 1/4 x 11 1/4 x 8 275# / 44 ECT 25 bdl./ 500 bale

Quantity:

25/Bundle
$1.25
$1.13

17 1/4 x 11 1/4 x 8 200# / 32 ECT 25 bdl./ 500 bale

Quantity:

25/Bundle
$1.03
$0.92

17 1/4 x 11 1/4 x 10 200# / 32 ECT 25 bdl./ 250 bale

Quantity:

25/Bundle
$1.13
$1.02

17 1/4 x 11 1/4 x 10 275# / 44 ECT 25 bdl./ 250 bale

Quantity:

25/Bundle
$1.38
$1.24

17 1/4 x 11 1/4 x 10 White 200# / 32 ECT 25 bdl./ 250 bale

Quantity:

25/Bundle
$1.22
$1.10

17 1/4 x 11 1/4 x 11 1/2 200# / 32 ECT 25 bdl./ 250 bale

Quantity:

25/Bundle
$1.19
$1.07

17 1/4 x 11 1/4 x 12 275# / 44 ECT 25 bdl./ 250 bale

Quantity:

25/Bundle
$1.51
$1.36

17 1/4 x 11 1/4 x 12 Multi-Depth 10,8,6" 200# / 32 ECT 25 bdl./ 250 bale

Quantity:

25/Bundle
$1.22
$1.10

17 1/4 x 11 1/4 x 14 1/4 200# / 32 ECT 25 bdl./ 250 bale

Quantity:

25/Bundle
$1.33
$1.20

17 1/4 x 11 1/2 x 6 200# / 32 ECT 25 bdl./ 500 bale

Quantity:

25/Bundle
$0.93
$0.84

17 1/4 x 11 1/2 x 11 Multi-Depth 9,7,5" 200# / 32 ECT 25 bdl./ 250 bale

Quantity:

25/Bundle
$1.18
$1.07

17 1/4 x 11 1/2 x 12 Multi-Depth 10,8,6" 200# / 32 ECT 25 bdl./ 250 bale

Quantity:

25/Bundle
$1.24
$1.12

17 1/4 x 14 1/4 x 10 200# / 32 ECT 25 bdl./ 250 bale

Quantity:

25/Bundle
$1.39
$1.25

18 x 12 x 5 200# / 32 ECT 25 bdl./500 bale

Quantity:

25/Bundle
$0.96
$0.86

18 x 12 x 6 200# / 32 ECT 25 bdl./ 500 bale

Quantity:

25/Bundle
$1.02
$0.92

18 x 12 x 6 Multi-Depth 4, 2" 200# / 32 ECT 25 bdl./ 500 bale

Quantity:

25/Bundle
$1.00
$0.90

18 x 12 x 8 200# / 32 ECT 25 bdl./ 250 bale

Quantity:

25/Bundle
$1.13
$1.02