Foam Rolls - Perforated
Non-abrasive, lightweight Air Foam is filled with thousands of cushioning air cells to protect your product.
• Made with quality polyethylene foam.
• Shock absorbing foam protects delicate items.
• Provides light cushioning and surface protection.
• Moisture resistant.
• Cross perforated every 12" for easy tear off.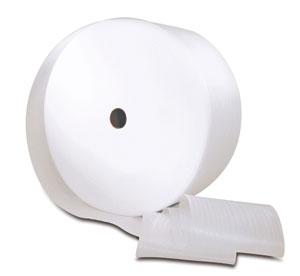 Products:
---

Product
Quantity
Bundle price (each)

1/4" 48" x 250` Perfed 12" Foam (1 roll/bundle)

Quantity:

1/Bundle
$173.31

1/4" 72" x 250` Perfed 12" Foam (1 roll/bundle)

Quantity:

1/Bundle
$223.90

1/4" 72" x 250` Slit 12" Perfed 12" Foam (6 rolls/bundle)

Quantity:

6/Bundle
$223.90

1/4" 72" x 250` Slit 18" Perfed 12" Foam (4 rolls/bundle)

Quantity:

4/Bundle
$223.90

1/4" 72" x 250` Slit 24" Perfed 12" Foam (3 rolls/bundle)

Quantity:

3/Bundle
$223.90

1/4" 72" x 250` Slit 36" Perfed 12" Foam (2 rolls/bundle)

Quantity:

2/Bundle
$223.90

1/4" 72" x 250` Slit 6" Perfed 12" Foam (12 rolls/bundle)

Quantity:

12/Bundle
$223.90

1/8" 48" x 550` Perfed 12" Foam (1 roll/bundle)

Quantity:

1/Bundle
$165.62

1/8" 48" x 550` Slit 12" Perfed 12" Foam (4 rolls/bundle)

Quantity:

1/Bundle
$165.62

1/8" 72" x 550` Slit 12" Perfed 12" Foam (6 rolls/bundle)

Quantity:

6/Bundle
$241.36

1/8" 72" x 550` Slit 18" Perfed 12" Foam (4 rolls/bundle)

Quantity:

4/Bundle
$241.36

1/8" 72" x 550` Slit 24" Perfed 12" Foam (3 rolls/bundle)

Quantity:

3/Bundle
$241.36

1/8" 72" x 550` Slit 36" Perfed 12" Foam (2 rolls/bundle)

Quantity:

2/Bundle
$241.36

1/8" 72" x 550` Slit 6" Perfed 12" Foam (12 rolls/bundle)

Quantity:

12/Bundle
$241.36

3/32" 48" x 750` Perfed 12" Foam (1 roll/bundle)

Quantity:

1/Bundle
$175.18

3/32" 72" x 750` Perfed 12" Foam (1 roll/bundle)

Quantity:

1/Bundle
$229.43

3/32" 72" x 750` Slit 12" Perfed 12" Foam .....................(6 rolls/bundle)

Quantity:

6/Bundle
$229.43

FINAL SALE: 3/32" 72` x 750` Slit 18" Perfed 12" Foam .....................(4 rolls/bundle)

Quantity:

4/Bundle
$229.43

3/32" 72" x 750` Slit 24" Perfed 12" Foam ......................(3 rolls/bundle)

Quantity:

3/Bundle
$229.43

3/32" 72" x 750` Slit 36" Perfed 12" Foam ......................(2 rolls/bundle)

Quantity:

2/Bundle
$229.43

1/16" 48" x 1,250` Perfed 12" Foam (1 roll/bundle)

Quantity:

1/Bundle
$222.09

1/16" 72" x 1,250` Perfed 12" Foam (1 roll/bundle)

Quantity:

1/Bundle
$307.33

1/16" 72" x 1,250` Slit 12" Perfed 12" Foam ..................(6 rolls/bundle)

Quantity:

6/Bundle
$301.48

1/16" 72" x 1,250` Slit 18" Perfed 12" Foam ..................(4 rolls/bundle)

Quantity:

4/Bundle
$307.33

1/16" 72" x 1,250` Slit 24" Perfed 12" Foam ...................(3 rolls/bundle)

Quantity:

3/Bundle
$307.33

1/16" 72" x 1,250` Slit 36" Perfed 12" Foam ...................(2 rolls/bundle)

Quantity:

2/Bundle
$307.33

FINAL SALE: 1/16" 72" x 1,250` Slit 6" Perfed 12" Foam (12 rolls/bundle)

Quantity:

12/Bundle
$307.33

1/32" 48" x 2,000` Perfed 12" Foam (1 roll/bundle)

Quantity:

1/Bundle
$247.91

1/32" 72" x 2,000` Perfed 12" Foam (1 roll/bundle)

Quantity:

1/Bundle
$356.39

1/32" 72" x 2,000` Slit 12" Perfed 12" Foam ..................(6 rolls/bundle)

Quantity:

6/Bundle
$356.39

1/32" 72" x 2,000` Slit 18" Perfed 12" Foam ..................(4 rolls/bundle)

Quantity:

4/Bundle
$356.39

1/32" 72" x 2,000` Slit 24" Perfed 12" Foam ...................(3 rolls/bundle)

Quantity:

3/Bundle
$356.39

1/32" 72" x 2,000` Slit 36" Perfed 12" Foam ...................(2 rolls/bundle)

Quantity:

2/Bundle
$356.39

1/32" 72" x 2,000` Slit 6" Perfed 12" Foam ...................(12 rolls/bundle)

Quantity:

12/Bundle
$356.39